Prenatal and Pediatric Chiropractic Care in Rochester MN

At Quality Life Chiropractic, we work with patients both (very) young and old – and everyone in between.
If you are pregnant and considering prenatal chiropractic care in Rochester MN for pregnancy-related discomfort call us at (507) 206-6334 to scheudule and see how chiropractic can benefit you and your family.
---
Prenatal Chiropractic in Rochester MN
Rochester MN Chiropractor, Dr. Matt Suntken provides a gentle, safe approach to correct and support the proper function of the body through prenatal chiropractic care and ultimately, improve mom and baby's quality of life and potential birth outcomes. The prenatal chiropractic adjustments are individualized to address the unique needs during pregnancy.
Pregnancy is an exciting time that is accompanied by many remarkable changes. The body undergoes a dramatic transformation structurally, hormonally, and even emotionally. These changes are vital for the growth and arrival of the baby but can also interfere with mom's daily living and level of comfort. Prenatal chiropractic care during can help create a more enjoyable pregnancy experience by addressing aches and pains and preparing the body for an easier, safer birth.
Prenatal chiropractic care can help with a variety of symptoms that a mother may experience throughout her pregnancy, including:
Muscle and joint pain, especially low back discomfort
Sciatica
Postural alterations
Nausea
Heartburn
Headaches
Bowel irregularities
Leg cramps
Fatigue
---
Postnatal Chiropractic
After the baby arrives, your body will begin to re-adjust to its pre-pregnancy state in addition to adapting to your new mom responsibilities such as nursing and carrying around a newborn. Your body has gone through almost 10 months of significant change and experienced a demanding labor and delivery process. Therefore, it is no surprise that it can take up to a year before a mom begins feeling "herself" again. However, postnatal chiropractic care can help the body heal quicker and recover from these new discomforts.
Following are some of the common symptoms that postnatal chiropractic care can help with:
Muscle and joint pain, especially in the neck and upper back from feeding and carrying your infant
Diastasis recti
Urinary incontinence
Bowel irregularities
Headaches
Slow recovery process
Fatigue
Moms can start receiving chiropractic care shortly after birth or when she feels ready. It is important to recognize the body underwent a remarkable change during the delivery process. Therefore, it is not uncommon to have spinal and pelvic imbalances due to the adaptions required to deliver the baby. Shortly after the birth, the body begins to heal itself and restore its normal processes. Ligaments begin to tighten as hormone levels start to return to normal. This, along with the new demands such as nursing and lifting a newborn, increase the chance for misalignments to occur.
Here at Quality Life Chiropractic and Massage, Chiropractor Dr. Matt Suntken performs gentle "full spine and extremity adjustments" to help facilitate a normal balance. He individualizes the postnatal chiropractic care to the specific needs of the new mom such as only performing adjustments seated or lying on her back if breast tissue is sensitive. Stretches and exercises are also provided to help rebuild a mom's strength and to optimize her functionality and well-being.
---
Pediatric Chiropractic
Chiropractic care is for EVERYONE including the day-old newborn, an energetic toddler, or the sport-loving teenager.
Pediatric Chiropractic adjustment for infants and toddlers
Chiropractor Dr. Matt Suntken has years of experience working with all ages, including babies. We safely and carefully assess the entire body to determine the best course of care. When adjusting infants and toddlers, a very light, gentle contact is used. We also incorporate mobilization techniques through muscle work, stretches, and exercises to restore function to restricted areas. While caring for our young patients, we consider what will be most comfortable for mom and baby. This may be having the infant assessed and treated while lying or sitting on the mom.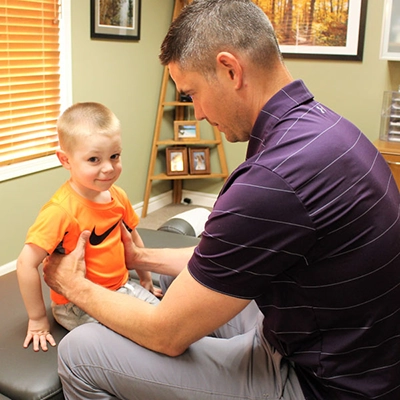 Here at Quality Life Chiropractic and Massage in Rochester MN, we believe pediatric chiropractic is a great way to keep the body functioning at its most optimal level. With regular appointments, we can help prevent problems from developing. Our Chiropractor is dedicated to helping your family grow up healthy and strong in a comfortable, family-friendly environment.
---
Pediatric Chiropractic Care for Infants
Being born is tough work for your baby! Their journey into this new world began with many adaptations required by their body. Additionally, the pressure and stresses of the birthing process, both natural and Cesarean, make it is easy for a baby's spine to become improperly aligned. This can result in a variety of common newborn issues that pediatric chiropractic care can help treat. Pediatric chiropractic adjustment of newborns and infants is a safe and effective way to help alleviate some of these common problems, including treatment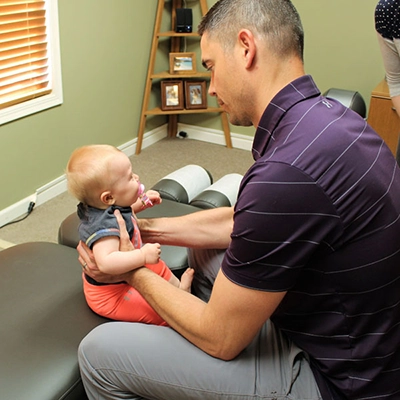 Excessive gas and irritability
Decreased or imbalanced motion (ex. Turning head one way more than the other)
Reflux
Bowel irregularities
Nursing and other feeding challenges
Oftentimes, our prenatal chiropractic patients begin treating their infants with us shortly after birth – and we encourage new mothers and babies to keep regular appointments together, allowing for a comfortable and family-friendly transition to new parenthood for all!
As your infant grows and develops, they continually meet new milestones. Many of these achievements are related to their spinal development. When we are born, we only have one curve in our spine. As we transition from tummy time to sitting to crawling to standing, our spinal curve continues to develop until there are three curves in the neck, mid-back, and low back. As you can imagine, this process takes time, coordination, strength, and the proper ability to move and function. Oftentimes, misalignments will present due to the demands of learning these new skills.
---
Pediatric Chiropractic Care for Toddlers
Before you know it, your infant will graduate into the toddler stage. This time is filled with twists and falls as they learn to run and jump. It also is a period of rapid growth, intellectually, physically, and emotionally. Life stressors placed on these tiny humans whether it be from a fall or just regular growth can create misalignment and improper function. As a result, a variety of issues can arise that pediatric chiropractic care can help treat including:
Muscle and joint discomfort
Frequent colds, especially ear infections
Growing pains
Balancing issues, commonly due to motion restrictions
Sleep difficulties
Stomach aches, heartburn, or indigestion
Behavioral issues, commonly associated with discomfort
---
Chiropractic Care for Kids/Teenagers
In a blink of an eye, your baby girl or boy is off to school and participating in sports. This welcomes a new level of demands and stresses to their bodies. Did you know that carrying a backpack that weighs over 10% of your child's weight can create back-related injuries? Kids are also more susceptible to postural imbalances and muscle aches and pains due to sitting for long periods of time in class. Demands, such as these, can create improper alignment throughout the body. This can make it more difficult to perform in school or to adequately rest and grow/develop.
Sport involvement and regular childhood activities, such as playing on a playground, are also exciting experiences during this time. However, both can bring imbalances to the body whether it is due to after activity soreness or maybe a specific injury like a sprain/strain. Pediatric chiropractic care can help to ease tension and provide improved stability and mobility.
Some of the more common conditions chiropractors help treat for this age group include:
Headaches
Muscle and joint discomfort
Postural imbalances
Frequent colds and infections, including allergies
Injury healing/prevention
Sport recovery and performance enhancement
Sleep disturbances
Difficulty concentrating, including attention deficit disorders
Fatigue
Chiropractor Dr. Matt Suntken performs full spinal and extremity adjustments to help kids and teenagers feel their best and perform their best whether in school or while being physically active. Stretches and exercises are also utilized to help enhance the recovery and overall well-being of the patient. Our Chiropractor encourages regular chiropractic adjustments to promote the health, growth, and development, and overall wellness in pediatric patients.
To learn more about the benefits of prenatal and pediatric chiropractic care for you and your family, call us today: (507) 206-6334.
OFFICE HOURS
---
Monday
8:30am - 6:00pm
---
Tuesday
8:30am - 3:30pm
---
Wednesday
8:30am - 6:00pm
---
Thursday
8:30am - 6:00pm
---
Friday
8:30am - 3:30pm
---
Saturday & Sunday
Closed